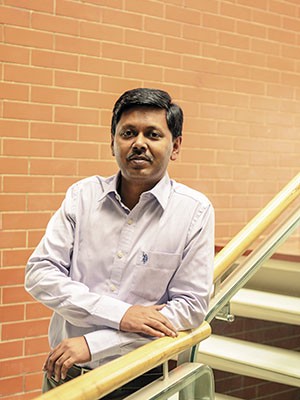 Last year, when Ganapathy Venugopal, co-founder and CEO of startup incubator Axilor Ventures, was screening applications for his Accelerator Programme, an applicant's answer to a question on customer acquisition caught his attention.
In application forms like these, startups are questioned on strategies to build customer base. Answers range from running Facebook campaigns to standard marketing approaches.
This particular applicant, who was in his 20s, had written: 'Will acquire customer, first by burning angel money and then by burning venture capital [VC] money.'
"We have a seven-stage selection process and this applicant was knocked out in the later stages, but I would have given him a very high score for his honesty," recalls Ganapathy (40), who has previously served as head of strategy and planning at Infosys.
What struck him was the ease with which the young entrepreneur dismissed the pain of raising funds. "Are we giving the right message to budding entrepreneurs in terms of easy access to investor cash?" asks Ganapathy, whose mind keeps going back to the words of a friend: "Capital cannot be a substitute for customer insights."
Ganapathy feels customer insight is a core requirement and startups must be taught this discipline. It is with the aim of inculcating this discipline that Axilor — started by Infosys co-founders S Gopalakrishnan and SD Shibulal, former Infosys board member Srinath Batni, Harvard Business School professor Tarun Khanna and Ganapathy — began in November 2014.
"Axilor was created to increase the success rate for startups in their initial 24 months. This period is critical for fledgling businesses as this is when they face their toughest challenges. Several startups don't make it beyond this period. By providing the right mentorship and preventing the most predictable mistakes, we want to improve their success rate," says Shibulal.
The Bengaluru-based incubator runs entrepreneur-in-residence programmes (which give office space to startups), funds early-stage ventures and has, so far, taken in two batches into its Accelerator Programme. The first batch, in March 2015, had five startups while the second batch in September had six. The third batch is set to start by March-end 2016 and Axilor is looking at a mix of 12 startups across ecommerce, health care and clean technology.
The 100-day Accelerator Programme incubates startups during their first 24 months, transforming the startup idea into a pilot project. During this period, entrepreneurs seek market validation, customer insights, and an understanding of the pain points that the enterprise is trying to solve. Post that, they work on building a beta app or pilot website for feedback from potential customers, based on which the final product or service is built in about 30 days.
"Since we typically deal with enterprises early in their life cycle, we can't consider some of the criteria that later-stage investors use, like revenue, customer base and traction. So we try to get some sense of the opportunities and understanding of the people they want to address and a preparatory insight on the entry of competitors," says Udhay Shankar, head, Accelerator Programme, Axilor Ventures.
Each startup in the Accelerator Programme gets a grant of Rs 1.5 lakh (funded by Axilor Ventures) — there is no equity dilution — in addition to benefits such as a free work space and membership to The Indus Entrepreneurs (TiE), a global not-for-profit organisation promoting entrepreneurship, and Tracxn, a database for startups and private companies. The startups also get access to cloud storage and software from Microsoft, Google and IBM.
While the Axilor team does not insist on an evolved business model for the Accelerator Programme, it does stress on market validation. Going from 'I think this is a great idea' to 'why someone else also thinks it is a great idea' is the key focus of the programme.
Axilor, however, is clear that ideas don't create value, execution does. "How interesting an idea is, is only one of the selection parameters. In early stages, it is just a series of experiments and most startups morph their idea or pivot them along the way. Often we find that a 'me-too' idea can be made valuable by a team that can do things much better, whereas a unique idea in the absence of proprietary insights does not progress much," says Ganapathy, who quit Infosys in May 2014, following which he spent two months understanding the startup landscape in India and the US by meeting VCs, incubators, academic institutions and entrepreneurs. In mid-2014 Shibulal retired from Infosys, while Batni stepped down from the company's board; in October 2014, Gopalakrishnan retired.
Remaining true to their entrepreneurial roots, the Infosys team was looking at institutional ways to nurture the next generation of startups. As for Khanna, who had helped friends and ex-students start new ventures, an opportunity to build value at scale was his goal.
Axilor was founded with the aim to boost entrepreneurship through an institutional platform. As co-founder Batni says, the platform is based on the same tenets that made Infosys successful: A strong focus on systems, process orientation, continuous improvement and scalability. Startups that have benefitted from the project include Peersome and Awesummly (See box).
Apart from the Accelerator Programme, Axilor runs two other initiatives. The Scale-Up Programme comes with a seed funding of Rs 25 lakh, in return for equity of up to 12 percent, and helps entrepreneurs take their business from pilot to launch stage. The Early-Stage Funding programme supports startups from launch to scale, backed by funding of Rs 1 crore to Rs 3 crore. (For these two programmes Axilor's founders co-invest through their individual funds.) In Early-Stage Funding, Axilor's stake doesn't exceed 15 to 20 percent, depending on the sector, business model and the startup's stage of development. Early-stage startups are also allowed to raise funds from other investors. Sellerworx Online Services and MUrgency were groomed by Axilor under this programme.
Recently, Axilor reaped the benefits of incubating the only startup under its Scale-Up Programme: Bengaluru-based PlaceofOrigin, an online marketplace for gourmet foods incubated in 2014 by former bankers Ashish Nichani (32) and Sudarsan Metla (27). This February, Sequoia-backed Craftsvilla, an online marketplace for ethnic products, acquired PlaceofOrigin in an all-equity deal for an undisclosed valuation, marking Axilor's debut exit. But Ganapathy calls it a one-off case and it is still "early days" to read too much into the exit.
"This deal [with Craftsvilla] didn't happen because of lack of opportunity to raise money. We saw an opportunity to grow the business and didn't want to delay it," says Nichani, adding that PlaceofOrigin will be run as an independent brand under the Craftsvilla umbrella. Both Nichani and Metla will continue to be part of Craftsvilla's core management team. "We see this deal as a good outcome because from an idea the startup has been able to build a business that is of value to a larger player and they [PlaceofOrigin] could bridge a significant gap in the other entity [Craftsvilla]," says Ganapathy.
Though various IITs and IIMs run their own incubator programmes, Axilor's attention to metrics differentiates it from other players. "There are a lot of incubators and accelerators, but we feel that relatively few are paying attention to gathering metrics, and thinking systematically about the incubation and acceleration process. It is hard to start ventures in many sectors of our economy — agriculture, health care and educational-technology to name a few — compared to ecommerce and mobile apps. So we aim to broad-base innovation as well," says Khanna.
Ravi Gururaj, angel investor and chairman of the Nasscom Product Council, feels that Axilor has the potential to play an important role in the country's startup ecosystem. "By delivering a special combination of enterprise expertise, superb entrepreneurial and operating experience among partners and world-class facilities, Axilor offers a much longer-staged programme methodology and funding options at all stages and a very founder-friendly approach," he says.
However, Ganapathy is aware of the challenges: Lack of diversity in ideas among startups, absence of mentors and a dearth of angel investors. The absence of institutional bridges that connect the lab to market is also a major deterrent. According to Ganapathy, selection is the only lever in a business like this and it is critical to attract a diverse set of entrepreneurs.
Axilor is making a conscious effort to go beyond Bengaluru this year, identifying Ahmedabad, Jaipur, Nagpur, Kochi, Coimbatore and Madurai as possible destinations. "Smaller cities don't have access to the same kind of ecosystem that Bengaluru has," he adds.
THE AXILOR CLASSROOM
Early-stage funding programme
1. Sellerworx Online Services
Co-Founders: Ganesa Murthi (41), Venkat Potluri (36), Chandramouli, (31)
Founded in February 2014, Bengaluru-based Sellerworx Online Services helps small businesses manage their operations and supply chains across online marketplaces such as Flipkart, Snapdeal and Amazon; its cloud-based platform integrates data related to inventory, pricing and payment.
Co-founder and COO Ganesa Murthi admits that, besides the funding (undisclosed), Axilor's guidance helped understand the business-to-business (B2B) space in ecommerce. "Both Venkat [Potluri] and I had prior experiences in the business-to-consumer (B2C) space. There is a complete mindset change when you approach the B2B market, which is not easy, unless someone guides you," he says.
2. MURGENCY
Founder: Shaffi Mather (45) and Co-founder: Sweta Mangal (40)
Much like taxi-hailing app Uber or Ola, MUrgency's cloud-based mobile application connects people in need of medical emergency services with the nearest available responders — doctors, ambulance service, community health workers, nurses, paramedics, volunteers, friends and family.
Founder-CEO Shaffi Mather says backing from Axilor has lent a lot of credibility and push to the early-stage venture. "Axilor's support from the very beginning made several things easier for us. It helps to pitch our vision and thesis to investors across the world," says Mather. Last year in April, MUrgency raised an undisclosed amount from Axilor.
Accelerator Programme
1. Peersome
Co-founders: Sayanta Ghosh (24), Laxmi Pavani (22)
In the first week of the Accelerator Programme, startups are asked to identify as many competitors as possible. The founders of Bengaluru-based Peersome, an online marketplace for self-drive car rentals, gained from this experience. Former Flipkart employees Sayanta Ghosh and Laxmi Pavani launched Peersome in September 2015. It has 12 car-rental operators from Bengaluru on their platform, and 150 cars. Their bike rental service is in beta mode and will be launched soon. Co-founder Pavani wants Peersome to be a one-stop platform for users to compare prices and services across all other car- and bike-rental services, similar to redBus.
2. Awesummly
Founders: Nitin Mishra (27), Deepak Mishra (28), Ankit Dhawan (23)
Making use of algorithms, Awesummly summarises news articles in less than 60 words in real time across 10 English-speaking countries, including the US, the UK, India and Australia. Their tech engine scans over 200 websites in each country to assimilate content. The Bengaluru-based startup, launched in July 2015, generates more than 15,000 summarised articles per day across categories such as news, politics, science, entertainment, sports and trends.
Nitin Mishra, founder-CEO, says that being part of Axilor's programme benefitted Awesummly in many ways: "Discipline is our biggest learning from Axilor. If we had worked alone, we would have only looked into the technical aspects of the business and overlooked the other key areas such as sales, marketing, customer insight and legal advice."
(This article is excerpted from the latest Forbes India 15 April, 2016 issue which is now available at news stands and book stores.)
< back to BLOG HOME