Introduction
The internet, one of mankind's greatest inventions, laid down the foundation for better lifestyle and newer modes of conducting business, following which the golden age of e-Commerce had dawned. What seemed like an illusion of having a supermarket outside the door was actually a wonder of the supply chain – a 15,000 mile journey, halfway across the world, supported by millions of people and billions of algorithms working together in harmony.
Interestingly much of these digitization efforts went into serving the end consumer, largely ignoring the critical back end of supply chains, comprising contract manufacturers, OEMs, and raw material/component suppliers all of whom still run on brick and mortar practices. This is changing and there is a massive opportunity to capitalize on these changes.
Now, 'Supply Chain' as a theme is quite extensive. Hence, we will deep dive on the nuances of supply chains and the Axilor approach towards investing in this segment over a 3 part series on 'Demystifying Supply Chains':
#1 – Initiating Coverage
#2 – The Axilor Approach
#3 – The Road Ahead
In this part of 'Initiating coverage', we'll be discussing the current scenario of supply chains, top recurring challenges, and interesting teams attempting to digitize the supply chain stack.
Part 1 – Initiating coverage
State of Supply Chains
Supply chains have captured the limelight in recent times, mostly driven by the pandemic and global geopolitics. The post-pandemic period has seen back-to-back shortages, inflation spikes, and shutdowns globally. Three of the many supply chain crises that occurred post-2020 are listed below:
Container offloading delays: The shipping industry, hit by labour shortage (due to the Great Resignation) faced persistent delays in container offloading. It was reported that 70+ vessels at Los Angeles & Long Beach as well as 24 vessels at Long Island were waiting up to 3 weeks to offload thousands of containers. The Suez Canal crisis, featuring the stuck 'Ever Given' ship, added to the issues.
The continuing wars: Semiconductors shortages were largely driven by the US-China trade war that laid down restrictions on China's largest chip manufacturer, and additionally the ongoing Russia-Ukraine war led to supply cuts of essential raw materials like neon, krypton, xenon and palladium. For context, car manufacturers estimatedly lost $210B in revenue during 2021 as a result of this.
Other events: Closure of multiple Chinese chemical plants led to spikes in prices of basic chemicals, chlorine-based chemicals, etc. Not to forget the 'global vaccine shortage' stemming from production volumes that couldn't keep up with demand spikes and additionally the lack of suitable cold chain logistics for produced vaccines.
Although geopolitical issues and other economic challenges (like current account deficit) could be addressed through prudent policymaking, there exist several issues which demand innovation over policies.
At the heart of supply chains: Manufacturers
If logistics form the arteries of any supply chain, then manufacturers are the heart. Keeping that in mind let's further understand their importance by dissecting the supply chain into 2 segments: Pre- & Post-manufacturing chains.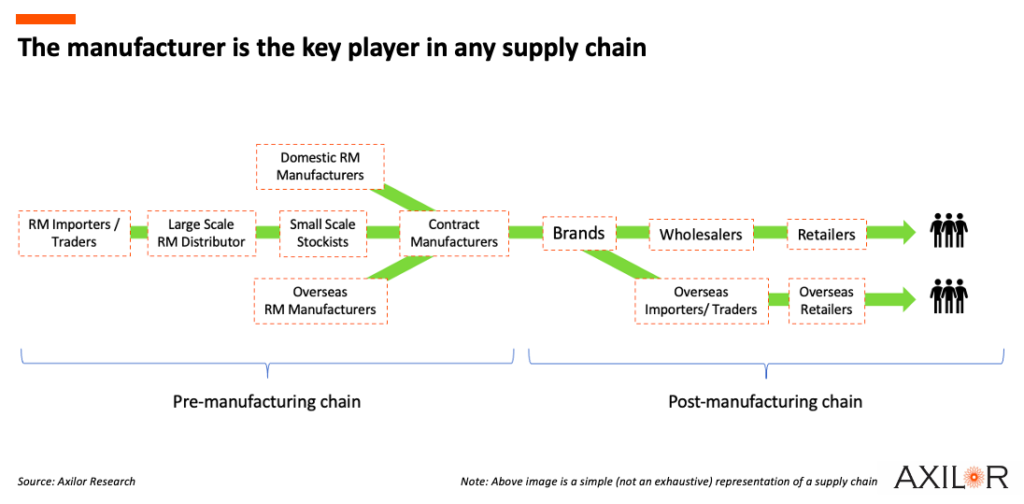 The pre-manufacturing side, comprising mostly contract manufacturers (CMs), is critical and any setback on this side would have a large ripple effect across the chain. Here's an example referring to the above image – Auto components production cuts in China & global chip shortage affected Auto OEMs in India, USA and eventually the consumer suffered due to sudden inflation. Such is the effect caused when the manufacturer faces downtime.
Knowing this, Brands (or) OEMs have diversified their risk over the years across a massive base of CMs who now manufacture more than 60% of a product's parts, and the Brands merely assemble and sell. This heavy outsourcing strategy has added to the CM's existing pressure on the lines of quality, reliability, pricing, etc. Another foul play that some Brands resort to is controlling relatively smaller CMs (by leveraging their order volumes) and threatening contract withdrawal to re-negotiate better terms.
To summarize – with procurement related obstacles, plant-related challenges (like labour, machines, working capital issues), while running at a constant risk of losing orderflow from a 'Dictator Brand' – the CM is bound to lose more than gain. Hence solutions safeguarding the CM's interest, removing non-value adding middlemen whilst making sure the Brands/OEMs are happy, are the need of the hour.
What's wrong with today's supply chains?
Fundamentally, the flow of Information, Goods, and Money are the three basic layers of a supply chain and a hindrance in any of the layers will negatively impact multiple stakeholders. Based on our interactions with Axilor's supply chain founders, industry insiders, and other founder friends, below is a graphic that covers a few recurring pain points.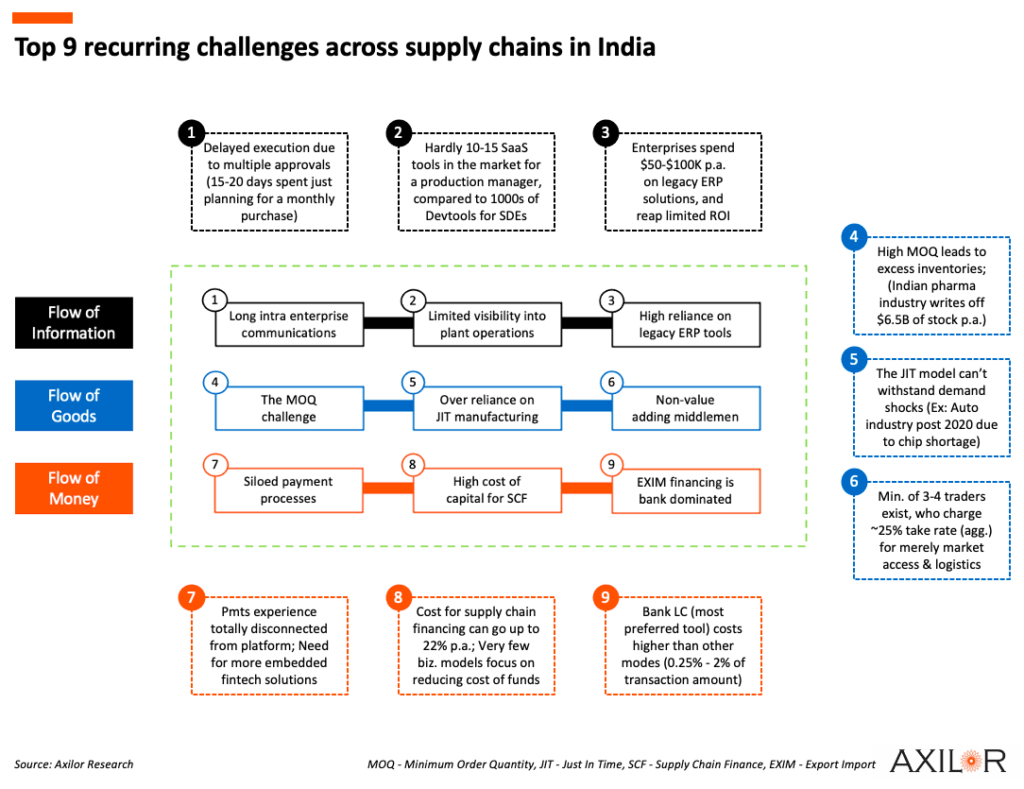 Having looked at these prominent challenges and also keeping in mind our economy's ambitious targets, this is an opportune time to disrupt supply chains by going after paint points discussed above.
Building the digital supply chain stack
Supply chains have been a core area of focus for us at Axilor. Around 50% of our portfolio is already digitizing supply chains or adding enablement layers for sectors which constitute more than 30% of India's GDP (We are of-course looking for founders building for the remaining 70%!!). Below is an infographic comprising Axilor portfolio companies and other supply chain tech startups solving for pain points across the Information, Goods and Money layers respectively.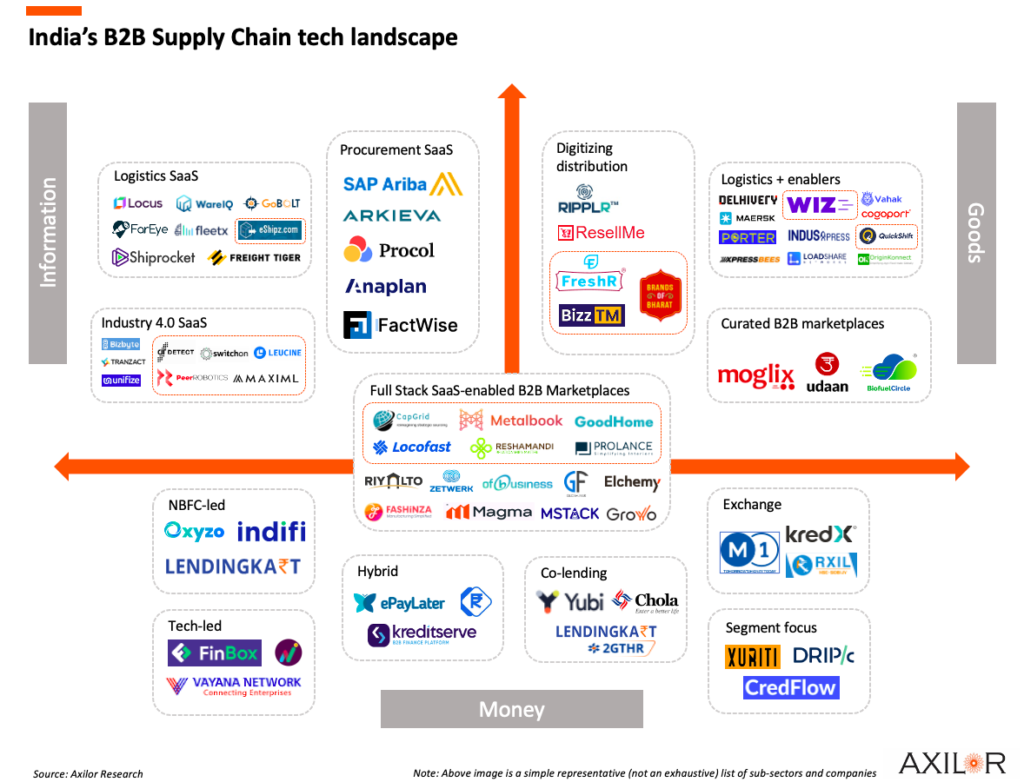 Improving visibility, reducing costs, speeding up delivery, etc. have been the fundamental vision for most supply chain tech startups in India. Given the vast vertical opportunities, there are still multiple gaps within the supply chain stack ripe for disruption.
Looking forward: The decade of supply chains
We believe manufacturing & exports will be the biggest levers for India's hopes to cross the $5 trillion mark. Here are two important tailwinds that stand out:
Large incentive pool: The Production Linked Incentive scheme has a total outlay of $24.6B, out of which ~$6B worth of actual investment has already been made.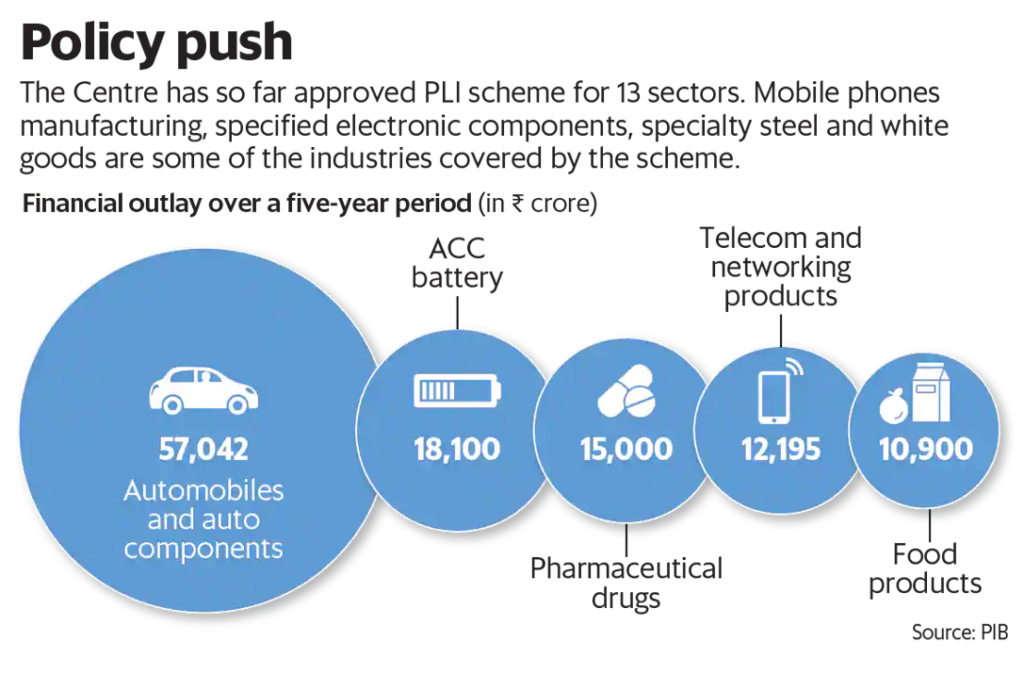 Source: Mint

Growing SME exports: SMEs form ~90% of the total Indian company base. These SMEs contribute more than 40% of India's total exports. Furthermore India's total exports is expected to cross $1 trillion by 2030, and by then SME contribution is estimated to touch 60%. Hence, taking our SMEs global would improve export competitiveness besides being a GDP multiplier.

We at Axilor Ventures believe there are numerous opportunities disguised as gaps & challenges in today's supply chains and we're curious to see how our Indian founders solve for this.
In the next part of this series, we will cover more on the approach we have taken at Axilor to invest in companies across this segment.
Meanwhile reachout to me at ananth@axilor.com if you're solving for supply chain pain points!
< back to BLOG HOME