Introduction
Credit is a game of cycles. To get credit, one needs credit history and to get credit history, one needs credit. Digital lending, in particular unsecured loans, has been catalyst to move masses into the formal credit network and break this vicious cycle.
While this has managed to grow the AUMs of banks and NBFCs alike, collecting these is fast becoming a challenge, particularly when one does not have any data from the new entrants. And, if collections, the last but most important leg of creating an upward credit spiral, is botched, lenders could become cautious yet again.
Field truths
Growth of digital lending: There is no hiding from the digital lender. From a mere 7% of the total lending market in 2012, digital lending went on to occupy 23% of total lending in 2019 (a whopping USD 110Bn) and is poised reach USD 350Bn in 2023 – which means almost 1 in 2 loans will be through digital means.
Limited credit history: The credit history data in India is far from enriching. Many consumers don't have good CIBIL scores and sometimes, the worthy ones have bad CIBIL record due to history and have to undergo CIR. This results in inconsistent and liberal underwriting in pursuit of growth
Traceability: Some of the biggest financiers of consumer durables (mobile phones, white goods) are witnessing post-COVID bounce rates of 2.5 times the normal rates. When attempting field collections, the most common complaint is that many delinquent borrowers and defaulters become non-contactable. A report by Sanford Bernstein in Apr 2020 hinted at a 20% skip rate across the spectrum based on feedback from collection agents.
Eleventh Hour: The collection of a loan past it is due date is first attempted by the lender himself. Cases which show irregular payment behaviour but have not yet defaulted goes to call centres for giving reminders. Beyond 90 days past due date, it is up to a recovery agent. All recovery efforts are undertaken post default and through physical means. The earliest warning signs from the relationship manager are never adequately gathered, analysed, and evaluated.
The Rise of Bad Loans
The bad loans[i]in public sector banks in India stood 9.7% as at Sep 2020 and was likely rise to 16.2% by Sep 2021, noted RBI in its Financial Stability Report of Jan 2021.The Apex Bank had estimated these as baseline numbers and on a severe stress scenario it could go up, by 140bps, to 17.6%.RBI also noted that the sectoral asset quality was better in case of industry, agriculture, and services except retail, where the stressed advances had remained flat.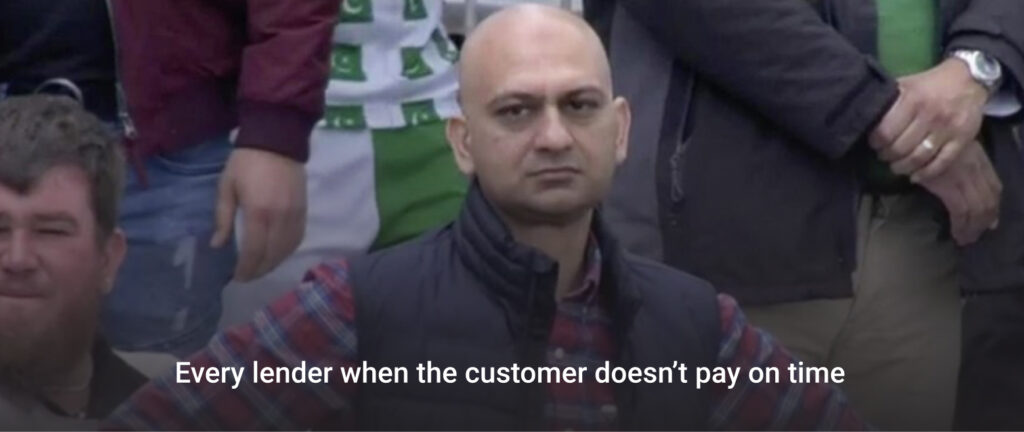 India Ratings estimated the overall retail stressed asset position could go up by 1.7 times in the latter half 2020-2021. The stock of stressed retail assets for public sector banks could increase to 2.9% in FY22 from 2.1% in FY21, while it could increase from 1.2% to 4.3% for private banks, it said.
As at Dec20, banks had already begun to consider ARC[ii] route for retails assets. The effects of lockdown-induced deterioration of household income and moratorium-induced behaviour changes were showing. Some of the largest banks in India had shored up to INR 3000+Crores of retail assets to be sold to ARCs. This is said to be a 40% increase in activity in this space.
Introducing iCanPe
Arindam and I first met at Axilor'sTransit office at MG Road. Our first conversation was about how severe were bad loans in major banks and NBFCs. And that's when he said: "Every lender has a digital front-end to lend. But when you ask about collections, he says 'I have to go on the field'".
Lending has become increasingly integrated, distributed and tech-first but collections has not caught up with the same pace.
Why did we invest in iCanPe?
iCanPe's mission is to become the go-to Collectionsoperating systems for every lender. Lenders' software stack typically consists of loan origination system and loan management system, which are primarily meant to grow and manage book, while their collections are still powered by call centres and network of field agencies, both of which are inefficient and ineffective.
An early warning signal helps the lender collect more. iCanPe's credit management platform digitally tracks repayment intent of the borrowers to pick early signals. This helps in creating consistent information flows through digital channels to the lender. Consequently, there is seamless movement of the collections journey from digital to physical means.
A combination of lender-provided data and proprietary behavioural metrics enables iCanPeto construct borrower-centric repayment options at scale. This improves digital engagement which feeds into speedy ascertainment of the intent to pay. Finally, collections are made digitally with minimal human nudge. With COVID-19 second wave hitting India hard, the need for an impending digital collection stack is accelerated.
This seed round provides capital to iCanPe so that it can accelerate product building and digitize collecting of estimated $10Bn+ worth of defaulting retail unsecured loans. Led by a team with deep technology expertise,iCanPe has grown its collections-under-management over 8x in less than 6 months. As the company grows, iCanPe looks to extend collections offerings to companies for whom collections and engagement go together.
---
[i] Gross Non-Performing Assets (GNPA) is referred to as bad loans.
[ii]Asset Reconstruction Companies
< back to BLOG HOME